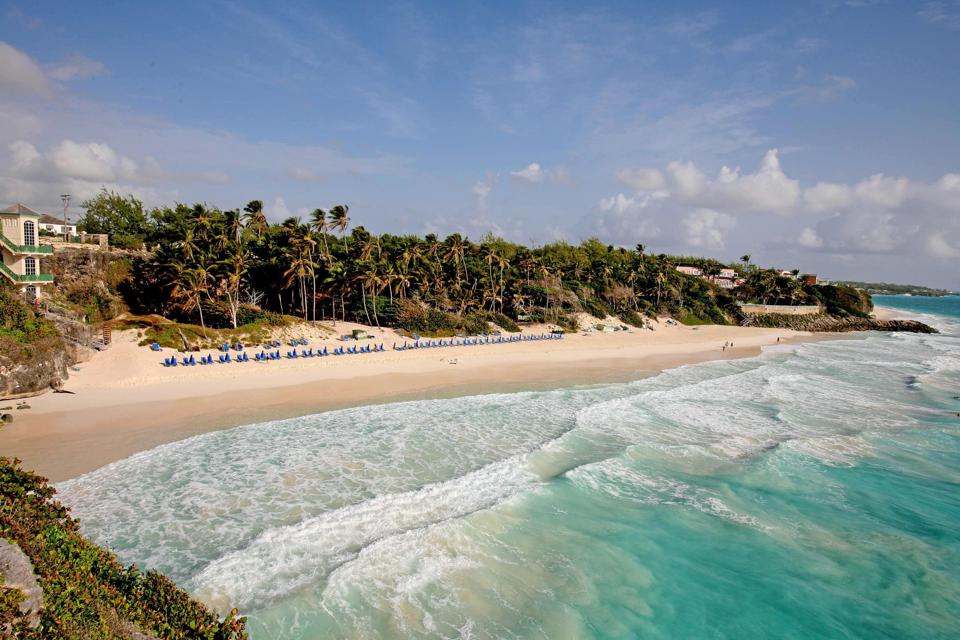 The beach at The Crane Resort in Barbados
THE CRANE
"Enjoy" and "quarantine" in the same sentence?
You read it right. Check into The Crane in Barbados—the oldest continuously operating hotel in the Caribbean, now a pioneer quarantine resort with onsite Covid-19 testing—and discover a quarantine like none other, in true Bajan style, on an island that has been blessedly spared heavy virus rates. Here's why.
SPACE

The Crane was socially distant before the phrase "socially distant" existed. The hotel, after all, sits remotely on the bottom tip of the island and is a kind of delicious world unto itself, massaged by cool breezes and scattered across sprawling seafront lawns. With five outdoor pools and a divine long stretch of powder-pink beach, staying six feet away from, well, the whole world feels like the natural thing to do. During my three-night stay I barely ran into another soul—itself a kind of calming bliss.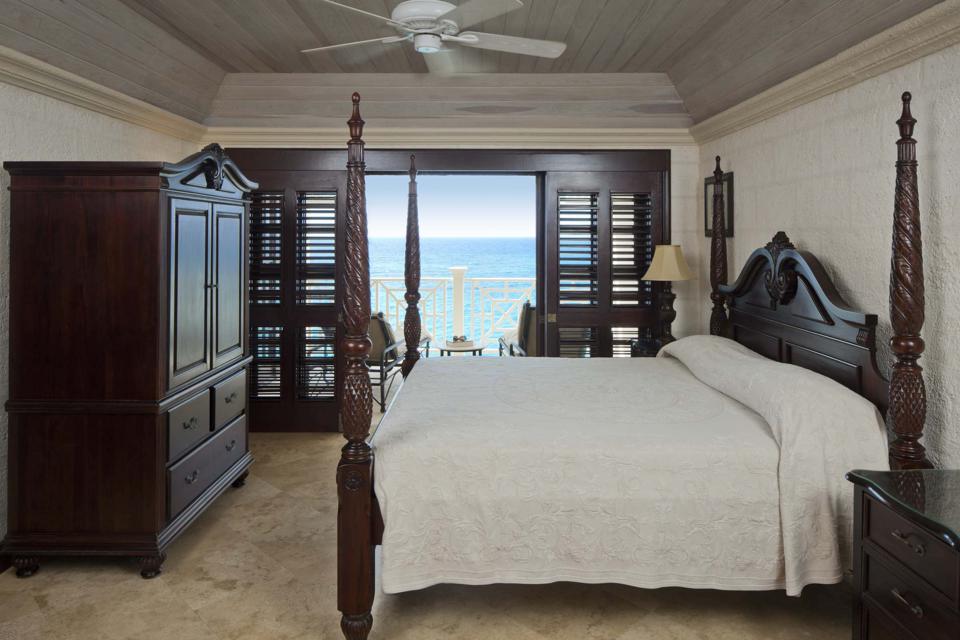 Rooms at The Crane
©2011 BY MICHAEL GRIMM
ROOMS

Your great dilemma will be this: what kind of pool do I want in my room? Yes, I said pool in room. You'll be confined there until your test results come in, after all, so should you select the rooftop plunge pool that hands precipitously over the Caribbean Sea, or the ground-floor private garden pool that feels hedonistically oversized—in the best possible way? I went with the former, and spent hours meditating while being serenaded by crashing waves. One- and two-bedroom suite options mean quarantiners can be couples, friends or solo travelers.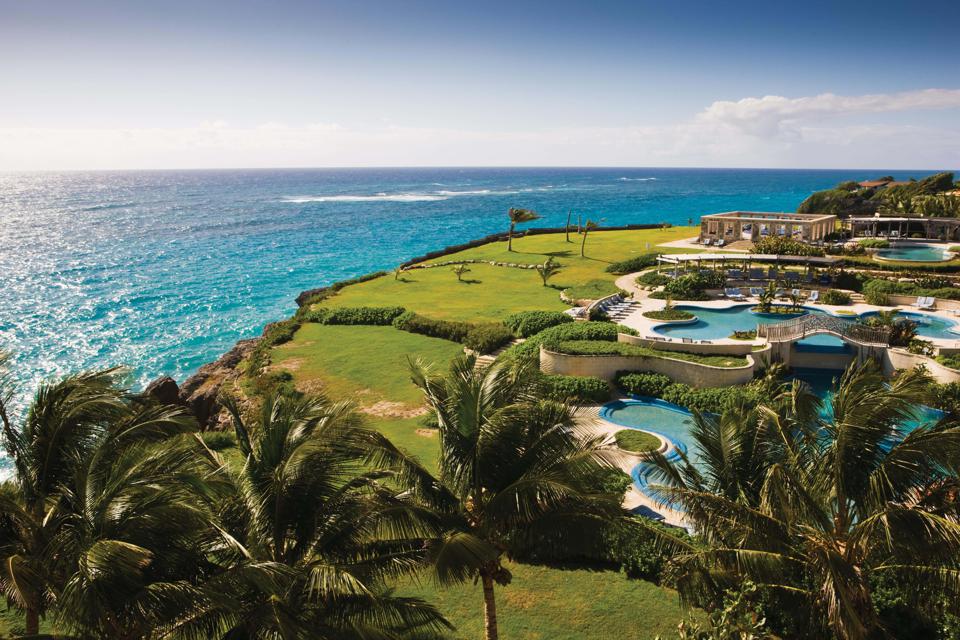 The Crane, Barbados
© 2008 MICHAEL GRIMM
EATS

What would quarantine be without food? At The Crane, it's all about options. I ordered from a different restaurant each meal; of course, delivery fees are waived since you're on a room-service-only mandate until those test results come in. From D'Onofrios, the hotel's Italian eatery, there was risotto with shrimp, and pizza with smoked salmon, mussels, clams, calamari and—best part—Bajan pepper sauce. Mornings meant veggie omelets from L'Azure, and lunches came fresh and quick from The Carriage House: Ode to that oversized chicken roti, and the Banks-beer-batter deep-fried mahi-mahi. I decadently snacked on ice cream from The Village Café, and indulged in cocktails from 1887: a pink sand martini (yes, it tastes as good as it sounds) with a side of mini local fish cutters and coconut shrimp. And when I was officially declared Covid-free, I celebrated with dinner at Zagat-topping Japanese-Thai restaurant Zen, where the menu overwhelms with options: duck and mixed vegetables in Thai gravy, five varieties of curries, more varieties of wok dishes and even more maki, hand roll and specialty sushi rolls than a girl fresh outta quarantine knows what to do with.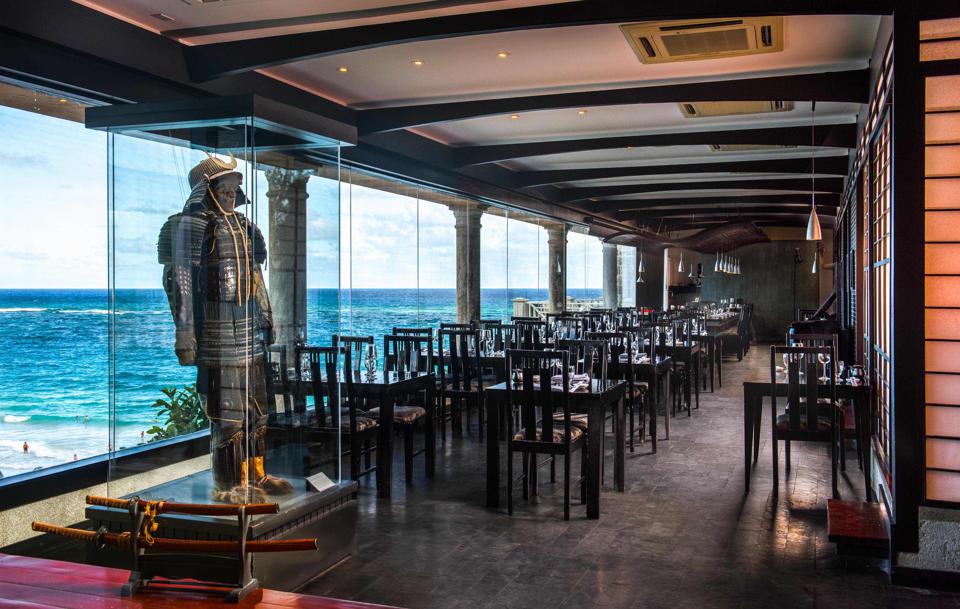 Zen Restuarant at The Crane
WILLIAM CHAN PHOTOGRAPHY
SAFETY

Here's the full-on rundown on process. Arrive at the airport—masked up, of course—pass through Barbados's rigorous pandemic protocols and immigration checks, and a taxi takes you right to The Crane. On arrival your check-in wait will be quick, and fear not: you will get the requisite welcome-drink rum punch to sip on—and frankly you'll need it after all the travel-in-a-pandemic stress. Schedule your Covid test with the concierge for the next morning, then go right to your room until it's time to stroll—with mask on, again—to the onsite testing office the next day, where your test takes no longer than five minutes. Then return to your room and get in your plunge pool until you get the call the next morning: you're free and clear. At that point you're issued a new green wristband and are free to move about the resort with other free-and-clear visitors. It's actually a seamless process, and the staff—yes, sporting masks at all times—make it as stress-free as could be.
DEALS

2020 is the year for the deal, and you'll find them all over The Crane's website—up to 40% off stays, plus daily breakfast included. The Crane maintains a cancellation policy wherein if you cancel 7 days prior to arrival, you will receive a full refund and no penalty will apply.