Disclaimer: Barbados Travel Protocols as described at the time of publication are subject to change. For current protocols in place at The Crane, please visit our COVID-19 Travel Information page.
By: Doug Wallace
The Crane Resort has pioneered the most thorough, thoughtful and painless ways of dealing with the COVID-19 virus in the Caribbean.
"This has been a learning curve for the world," says Canadian businessman Paul Doyle, owner and managing director of The Crane.
No one has absorbed the pandemic reality more quickly or more conscientiously than the whole team at this cliff-top luxury resort in St. Philip on the southeast coast of Barbados.
Since the announcement of a mandatory second COVID-19 test for visitors to Barbados, The Crane moved swiftly to make quarantine as easy as possible. In fact, it's the only hotel on the island certified by the Barbados government to allow not only quarantine, but also isolation in the unlikely event of a positive second test. While other hotels need to send people who have tested positive—but are not showing any COVID symptoms) to a government facility, The Crane moves them to a luxurious section of the resort set off specifically for the mandatory isolation.
Billing itself as the oldest continuously operating resort in the Caribbean, opening for business originally in the same spot in 1887, The Crane has a certain standard to uphold undeniably.
"Our intention is to give asymptomatic guests an apartment with a nice big swimming pool, a garden or a rooftop terrace, a barbecue and a private sun deck," Doyle says. "You don't get out, but we bring you room service from one of our restaurants—I have to mention that this happens half a percentage point of the time so far. And because we started out years ago with 40 acres of land, we spaced everything out, so there is a ton of room."
But here is the real kicker, a hospitality incentive of bend-over-backwards proportions: "If you have to stay in Barbados longer than you planned, based on a five-day booking," Doyle says, "the balance of your stay is on us. We're not going to charge you."
The steps couldn't be simpler.
Barbados operates on an organized system of wristbands, which lends a wonderful sense of security island-wide.
The Crane guests are greeted at the airport, shown to a sanitized vehicle and whisked to resort, which is just 10 minutes away. When you present your negative COVID-19 test result at reception, you are given a blue wrist band and automatically scheduled for a second test at The Crane's on-site medical clinic, which is staffed by a full-time doctor and specially trained medical personnel. Test dates are booked five days after your first negative test back at home, rather than on your arrival date, making it possible for you to get your second test the day after you check in. Results are typically available within 24 hours, further minimizing quarantine time.
Then, you can spend your seclusion in total luxury: The 284 elegant, plantation-style suites start at 700 square feet. But unlike other resorts, rather than being locked in your room pining for the outside world from your balcony, The Crane's Historic Pool is set aside for quarantined visitors—replete with socially distanced loungers and sweeping views of Crane Beach, which frequently makes the world's top 10 lists.
Once your negative second test is confirmed, you are given a green wristband and can roam the resort at will—wander the beach and restaurants, or venture out to explore all that Barbados has to offer. The whole process couldn't be more simple or more civilized.
Barbados follows the science.
By tackling the coronavirus quickly and efficiently—via contact tracing, widespread testing and mask-wearing—Barbados nipped it in the bud so to speak. The government has also done well in terms of testing, with results being returned within 18 hours.
"Barbados has dealt with the pandemic amazingly well," Doyle says. "I give credit to very strong leadership. They made it clear that if there was ever a choice between health and tourism—we're going with health."
With the populace behaving properly, there has been practically no community spread and a very low number of cases in Barbados. And those not complying with island safety regulations are dealt with by authorities in the Ministry of Health.
"Barbados enjoys universal health care—and we treat tourists as if they're local, so tourists never pay here," Doyle says.
It's a quiet kind of getaway.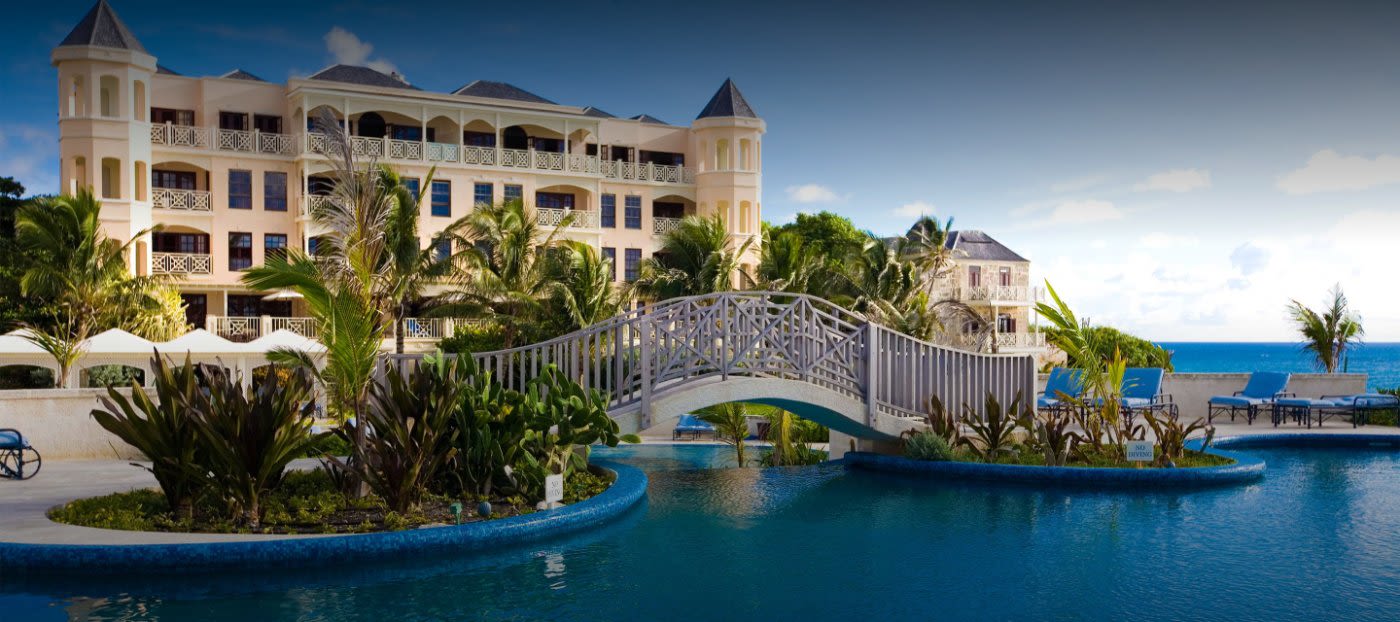 The Crane wears its old-world charm on its sleeve—and people love it. "There's nothing loud here. It's not pretentious in any way," Doyle says of his award-winning resort. "It turns out that there are enough people out there that share this value, which has created a good business for us."
You seriously can't beat the wide-open 40 acres of natural beauty, far away from the bustle of the other side of the island, set off from the outside world.
"In reference to all of the space we have, I actually joked with members of the Ministry of Health when we first started working together this year. I said The Crane was designed for this—we have been social distancing since 1887."
Disclaimer: Barbados Travel Protocols as described at the time of publication are subject to change. For current protocols in place at The Crane, please visit our COVID-19 Travel Information page.