On your vacations to Barbados, there is so much to see and so much to do, but one thing which you must have on your vacation bucket list is to discover the coral reefs and ship wrecks on the island. It is an experience which will never be forgotten!
Reefs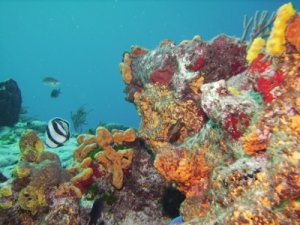 Bell Buoy
This reef is located near the popular Accra Beach in Barbados, about 20 km's west of The Crane Resort. It is 30-70 feet deep and as such is great for even beginner divers. The picturesque scenery which includes angel fish, parrot fish, gorgonian sea fans and so many more types of marine life, is exhilarating to explore and is also bliss for photographers.
Silver Bank
This reef is situated near to Brighton Beach. It is 60-80 feet deep and as such is not ideal for beginner divers. There is a wealth of tropical fishes and other marine life here. The combination of the beauty of the coral, sea fans and the fish, makes it a popular dive site among visitors.
Dottins
This particular reef is known as the best site for night diving and is located on the West Coast of Barbados. It is 40 - 100 feet deep and therefore is suitable for beginners and intermediate divers. Different types of fish can be observed on different sides of this reef. On the north, sting rays can be seen, while on the south, divers can see yellow tail snappers and creole wrasse.
Shipwrecks
This is the most popular shipwrecks site on the island. It is home to several wrecks and is also one of the sites that is ideal for beginners, as well as more experienced divers. Here you can find wrecks such as:
Ce-Trek - an abandoned boat which was sunk in 1986.
Berwyn - a tug boat which its crew sunk in 1919.
Bajan Queen - formerly known as "Pelican". This party boat was sunk in 2002, after being donated to the Coastal Zone Management Unit, when it was no longer profitable as a pleasure craft.
Eillon - a drug boat which was sunk in 1996, subsequent to being at the Bridgetown Careenage for approximately six years.
Cornawallis - a freighter from Canada which was torpedoed and sunk by a German U-Boat in 1942. The relocation of the shipwreck didn't take place until 2003.
Barge - a naval landing barge which in now an attractive home to several species.
On these wrecks, fish such as tropical fish, puffer fish, porcupine fish, eels, sea horses and many other reef fish can be seen.
Friars Crag
This shipwreck is located off of the South Coast of Barbados. This Dutch freighter which sunk in 1984 has breathtaking scenery, as it has marine life in a rainbow of colours. Some species which can be seen are snappers barracudas, angel fish, hawksback turtles, peacock flounders and so many more! This is a diver's paradise.
The reefs and shipwrecks are exhilarating and can be an event for the family. It is guaranteed to be a memorable experience!
Intrigued? Ready to swim with the fish? E-mail concierge@thecrane.com and let us help you plan your dive!