Popularly known for its beaches and people, Barbados is also well known for its foods. Of the endless scrumptious options, here are 5 Barbadian dishes you don't want to miss!
1.) Cou Cou & Flying Fish
This delicacy is the national dish of Barbados. The cou cou is prepared using cornmeal and diced okras and is served with stewed flying fish prepared with many herbs and spices. It is said that the cou cou tastes better when prepared using the traditional 'cou cou stick'.
2.) Pudding & Souse
Saturdays in Barbados are known as 'Souse Saturdays' since this dish is a must have for lunch on this day. The pudding is steamed sweet potato mixed with a combination of savory herbs and spices. The souse is pickled pork or there or other meat options available such as chicken steppers. These are usually served with a side of breadfruit or sweet potato. This dish is often spicy!
3.) Macaroni Pie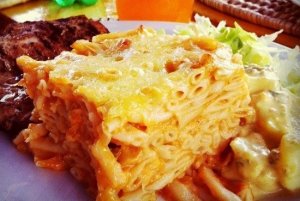 Often referred to as 'pie' by the locals, macaroni pie is very popular in Barbados. Its popularity has gained it the status of the unofficial National Dish of the island. This baked dish is the Barbadian variation of macaroni and cheese. The macaroni is loaded with cheddar cheese and the Bajan twist is the addition of herbs, grated onions, mustard and ketchup for extra flavour.
4.) Fish Cakes
Fish cakes are arguably the most popular finger food in Barbados. They can be found all over Barbados - from road vendors and rum shops to well established restaurants such as L'Azure Restaurant at The Crane Resort. These little balls of goodness are made with a combination of flour, salted cod fish and Bajan seasoning. The mixture is dropped into hot oil and fried until golden brown and the result is the mouth watering fish cake. Fish cakes are often served with Bajan pepper sauce as a dip. As a breakfast item, locals use the fishcakes to make a 'bread and two' which is two fish cakes, cheese and pepper sauce between a bread bun.
5.) Sweet Bread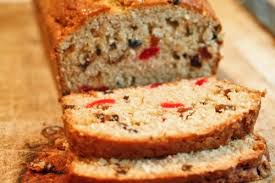 Also known as Coconut Bread, sweet bread is made with a combination of coconut, raisins, dried cherries, mixed peels and other spices. It is normally eaten for breakfast, dessert or for tea. The bread is popularly prepared during Christmas but can be found at bakeries and supermarkets throughout the year as well. It is absolutely delicious!
Ready to indulge? Book your stay at The Crane Resort by contacting reservations@thecrane.com. Also, let us know how much you enjoyed these dishes!